As you should know by now, we in flespi are mostly busy doing the backend stuff and are not involved in the customer-facing part of the solutions. Thus, you have a number of options to feed the data from your devices into flespi but no one-stop option to visualize trips, see stats, get driving behavior analysis, etc.
Luckily, we have a companion team focusing exactly on that. They created Ruhavik as a comprehensive app to evaluate, analyze, and control your trips. They put together their deep knowledge of telematics, clear understanding of the customer needs and pains, and best practices in UX/UI to craft a powerful yet intuitive application (iOS, Android) and also the Web-version.
Since we sit (sat before the pandemic forced us to work from home) in the neighboring rooms, it was easy to agree to combine our strong sides and offer our customers even more benefits
Check our guide on how to stream the telemetry data from flespi to Ruhavik here.
Let's see what flespi and Ruhavik bring to the table:
| | |
| --- | --- |
| flespi | Ruhavik |
| Data collection and parsing | Map & trips |
| Real-time data pre-processing | Geofences |
| Data forwarding to cloud platforms & third-party apps | Notifications |
| Device management | Stats & analytics |
Flespi side should be pretty clear to our readers, so we will look at the benefits from the Ruhavik side in more detail.
Trips
Ruhavik will automatically split all your driving into trips and calculate the stats and score for it. The score is a relative measure of the uniformity of the driving pattern — fewer braking and acceleration events and stable speed will result in a higher score.
Geofences
With Ruhavik you can easily create various geofences — circular, rectangular, and polygonal — and then configure notifications that will trigger upon entrance to and/or departure from a certain geofence. This way you can easily stay updated about vehicles/people leaving or approaching specific locations.
Notifications
Ruhavik can inform you of important events in the form of push-notifications, Telegram messages, emails, or webhooks. Pick what works best for you.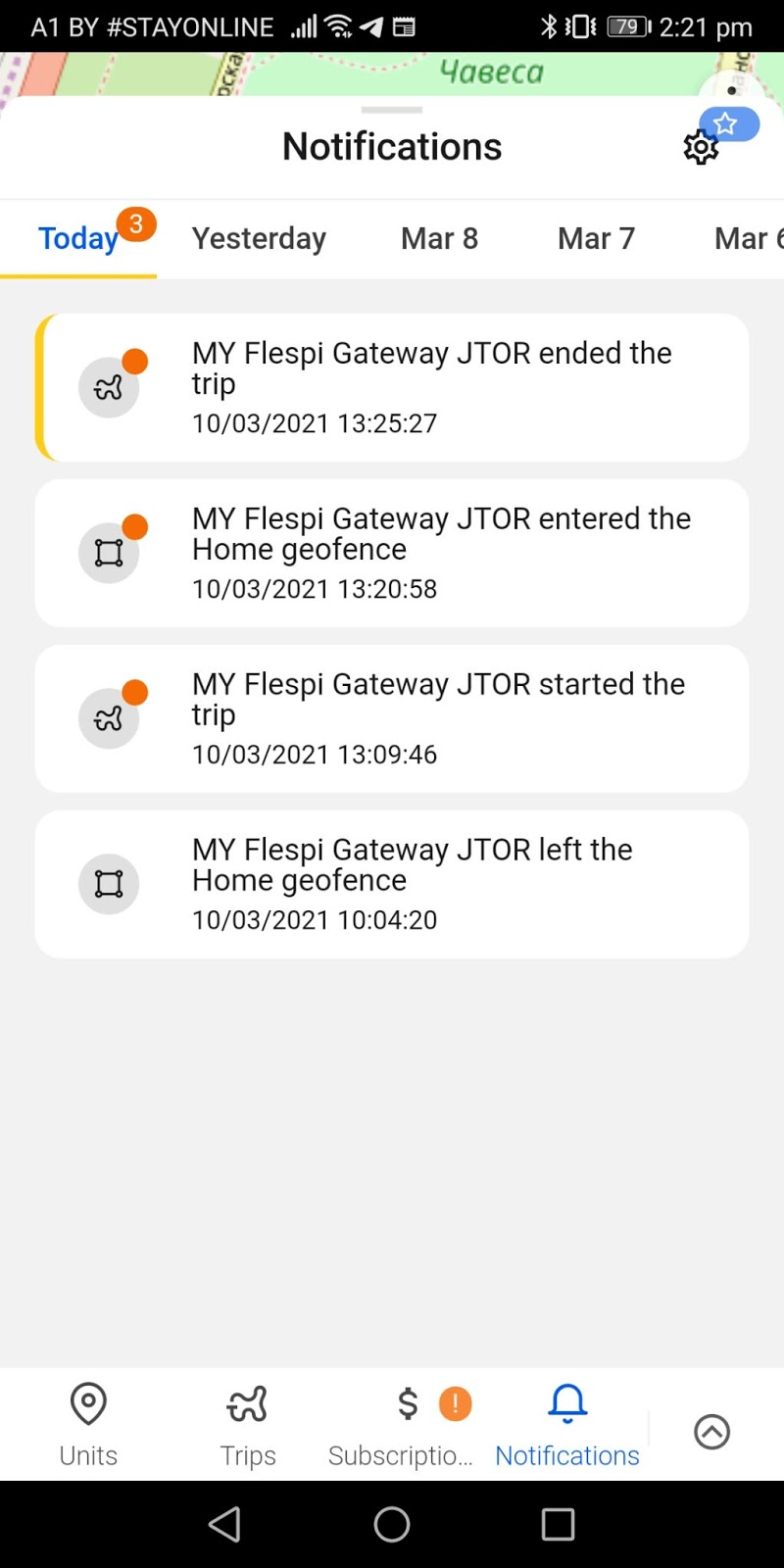 Stats & timeline
The Dashboard section of the app contains some basic stats like mileage, total mileage, etc. The Timeline screen shows all the events related to the given unit in chronological order.
***
Ruhavik offers rich functionality to satisfy personal as well as small business tracking needs. The choice of free and several premium pricing plans allows picking the feature set most suitable for the task at hand. With flespi as a powerful data provider, you ultimately get a solid solution that can consume telemetry data from a variety of hardware and software sources and generate actionable insights and useful information out of it.
Give it a try and see if it may be a suitable option for your future projects.
P.S. Just in case you are curious why the app is called "Ruhavik". The root "ruh" in Belarusian means "to move", and the "-vik" suffix makes a noun out of it, so it's basically equivalent to "engine".
---
---