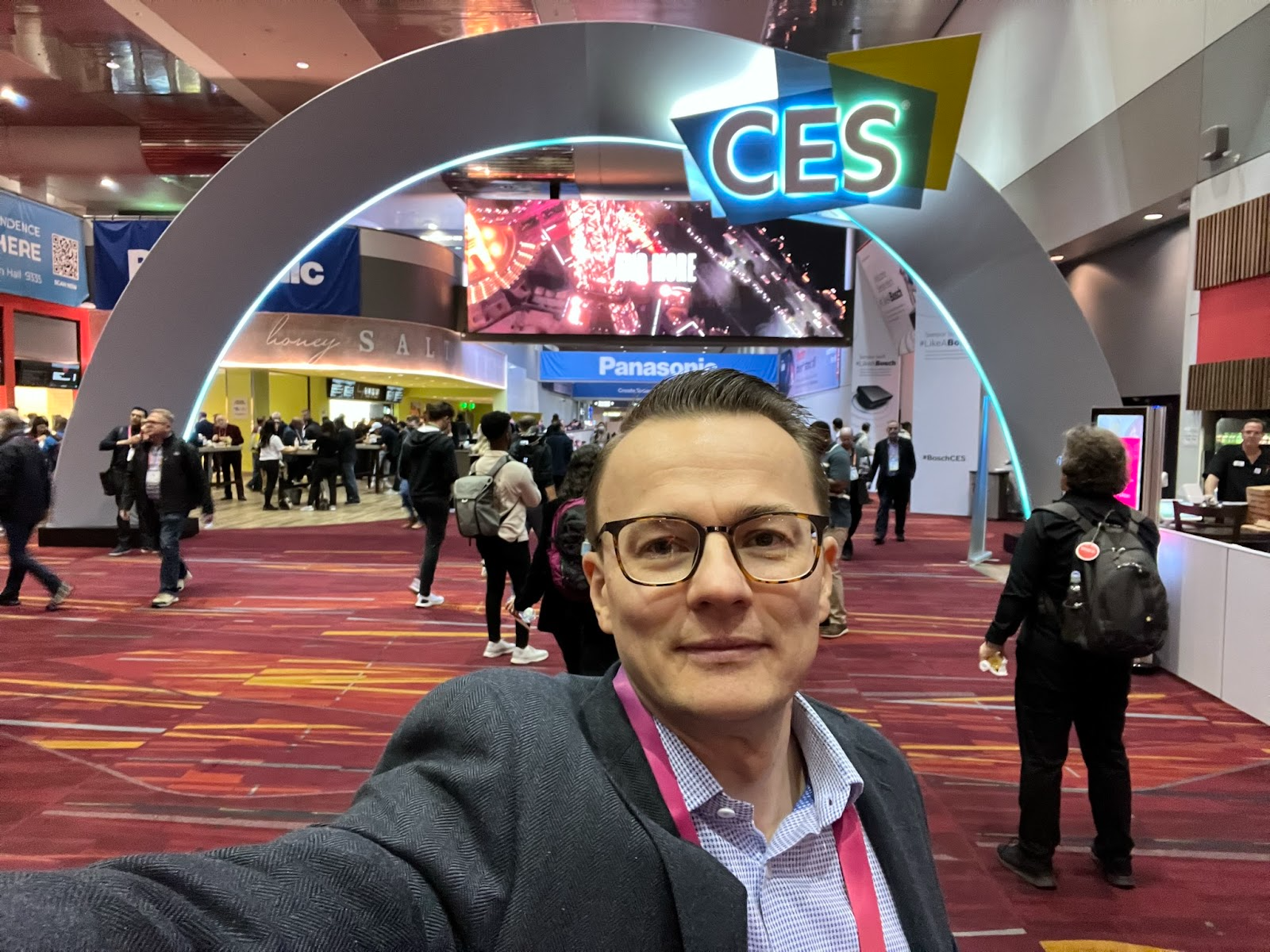 Smart toilets, personal flying aircraft (looks like an oversized drone), yard care robots (i.e., autonomous lawn mower + snow blower), augmenting VR into driving experience. There was so much to marvel at across the booths of 3000 exhibitors spread over 2.2 million sq. ft of space (220K sq. meters). Crowds were back, exhibit floors were filled with excitement, buzz and all kinds of creative (and sometimes quite weird) new tech.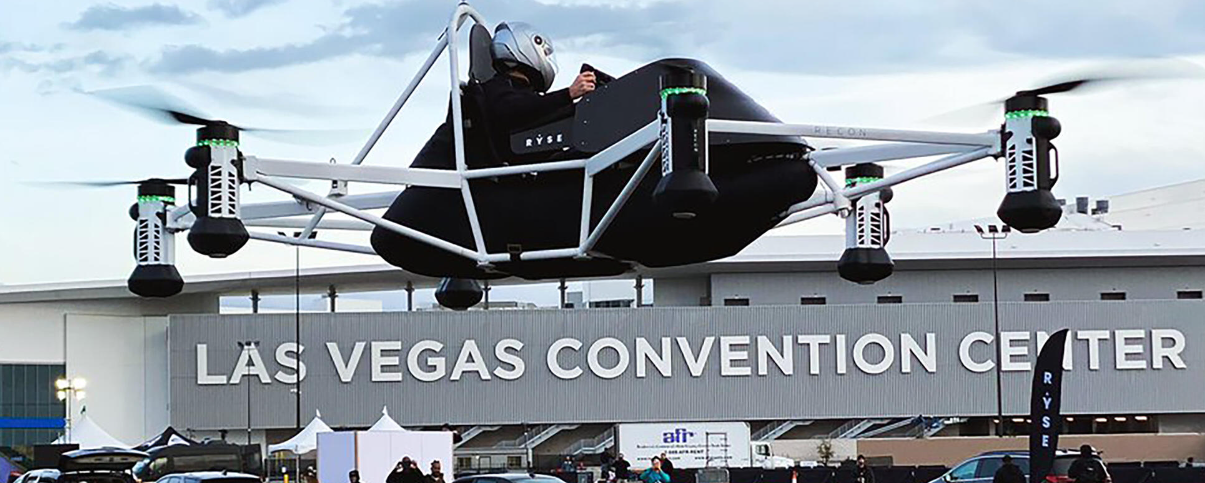 It's been at least three years since the last time CES was this packed. At CES 2020 in January no one could imagine that within a few short months the whole world would largely shut down for as long as it did. And now, three years later it finally feels like the industry rebounded and bursts with excitement about how technology is making some of our wildest dreams a reality.
While the CES show as a whole grew by about 70% this year relative to last year, IoT Infrastructure Pavilion, run by Keith Kreisher and IoT M2M Council tripled in size from a year before! Module makers, connectivity providers, IoT device manufacturers, IoT software platforms significantly increased their presence at this year's CES. What was refreshing to see is how much emphasis many of them placed on helping simplify IoT deployments and make them financially feasible for a broader number of potential use cases. It's a theme that often came up during panel discussions and analyst interviews hosted by Keith and his team at the IoT M2M Council booth.
I used an opportunity offered by Keith and his team and shared my views on the drivers of IoT adoption during the interview on the second day of the show. One driver that I continue recognizing as the most significant in the movement to mass IoT adoption is the digitization of just about every industry — manufacturing, transportation, retail, healthcare, etc.
So many large multinational corporations across a spectrum of industries look at what Uber did to the taxi industry, what Airbnb is doing to the hospitality sector, what Amazon did to retail, and wonder how to adapt to the rapidly emerging technological advancements. Taking a hard look at what it would take to stay competitive over the next 10-20 years requires complete reevaluation of the alignment with the technology trends.
On the most basic level IoT is about collecting, analyzing and acting upon the data from all kinds of assets or "things". It holds tremendous promise around optimizing operations and generating new monetization opportunities. Therefore it's an integral part of digital transformation for any business.
Some notable trends I picked up on by talking to the companies in the IoT Infrastructure Pavilion:
IoT connectivity providers attempt to overcome being perceived as vendors of a commodity. In its pure form connectivity is a commodity service that enables communication between remote IoT devices and some computing hub typically in the cloud IT infrastructure. To differentiate themselves many IoT MVNOs layer software/integration capabilities on top of their core offering.
For example, 1NCE demonstrated their 1NCE OS that enables such features as:
device authentication to prevent unauthorized SIM use
location via API based on cellular towers in the immediate vicinity of a SIM card
data transmission protocol translation from lightweight UDP, CoAP, LWM2M to HTTPs web hooks and MQTT supported for ingestion by Amazon AWS, MS Azure, and cloud providers. 1NCE' SDK gets built into the IoT device firmware to enable such data flow.
Other MVNO's who were present, such as floLIVE, Pod Group also demonstrated differentiating integration and security capabilities respectively.
Connected ebikes / escooters test new B2B applications. For example, China-based OKAI, which offers their IoT-enabled scooters to many well known micro mobility operators (Voy, Bird, TIER Mobility) are experimenting with last-mile delivery services in several US metro areas. Whether it's a take-out food or parcel delivery, such services are currently predominantly provided using passenger vehicles. OKAI builds specially configured ebikes with the optimized cargo space for efficient local deliveries. It sounds like a good opportunity to not only improve the economics of such service, but also reduce greenhouse gas emissions and positively impact air quality in the cities.
Reducing complexity in product development and deployment. Vendors realize the complexities hold many IoT projects back from becoming a reality, which in turn limits the growth of their businesses. Whereas in the past any given vendor was oftentimes focused on one specific functionality area - modules, gateways, sensors, connectivity service, software platform — there's a general trend towards bringing some of those distinctive components together into bigger building blocks.
1NCE's example above for connectivity + integration tools I mentioned above falls into this category. Another good example is Blue Wireless' bundles that include connectivity + LTE/5G router + professional onsite installation. Yet another fascinating example is Pod Group's smart label product that is designed to operate on Pod's connectivity. It's slightly thicker than regular paper and contains a tiny battery-powered disposable tracker that can send up to 200 packets with positional and temperature data to the cloud.
Flespi aligns well with this trend. While we remain focused on an API and other back-end IoT software services, flespi platform is hardware agnostic and is compatible with a very large and growing variety of IoT device types. This greatly helps to eliminate complexities around working with IoT hardware from different vendors, that may rely on radically different communication protocols. By replacing low level device-to-server communication with the flexible API-based communication, we help hundreds of IoT solution companies simplify their development and get their solutions to the market significantly faster and cheaper.
***
As usual, attending CES was a source of inspiration and re-energizing for the new year. At flespi we've ended 2022 with close to 600K connected devices, having almost doubled our volume over the course of last year. While our core transportation vertical remains strong, micro mobility and assets tracking services built on flespi, are gaining momentum. We are very optimistic about 2023 despite the obviously challenging microeconomic climate globally. We've gotten some exciting plans to keep us busy. We are confident that delivering on those plans will enable us to bring more value to our customers and help drive IoT adoption worldwide.
---
---