Sensing the market
Being an early adopter of a new trend can take you far ahead of the competition (if the trend stays) or drive you to bankruptcy (if the trend doesn't stick). The guys from ScootAPI are definitely from the former cohort — they believed in the trend of micromobility and started pursuing it back in 2018.
"Being in Belarus we understood that our biggest advantage was to have an abundance of talented software engineers at an affordable price.

We saw the opportunity and decided to serve entrepreneurs that have ambition to build micromobility business on their local market.

What started as scrappy software developed in a small city of Grodno is now a multinational platform with clients operating it in nine countries."
ScootAPI platform empowers businesses to grow into strong regional or national brands (depending on the goals and ambitions) using the micromobility fleet they own. Entrepreneurs can build networks of cities covered by their brand; local entrepreneurs get an opportunity to open local micro-mobility businesses in their hometowns. As the sharing businesses prosper and their franchise networks expand, so does ScootAPI.
ScootAPI automates most operational, organizational, and financial aspects of the customer's sharing business thus simplifying entry to market and minimizing required upfront investment.
Features
ScootAPI software platform has a unique feature called the "Franchise Lord". "Franchise Lord" allows selling franchises on behalf of a brand to smaller players in nearby cities. Brand scales operation with the capital of small players. That's what Whoosh and Urent were doing during their expansion without venture capital. ScootAPI platform offers that opportunity as well.
Here is the list of features that increase profitability by decreasing operational costs:
Apple Pay and Google Pay — users register and pay in a few clicks.

Subscriptions — users buy subscriptions to use service more often with less money and become loyal to a certain brand. ScootAPI has flexible settings, you can set up a Subscription for a different period of time or for free unlocks.

Geofencing — helps you manage parking and distribution of your fleet. ScootAPI features five types of zones: Speed limit, Parking area, Forbidden parking, Forbidden area, Paid parking.

Convenient integrations for easy support — users can communicate with administrators via Telegram, Whatsapp, or phone directly from the app.
Look & feel
Booking & renting multiple scooters
At the main screen of the ScootAPI rental app, the user can easily rent a scooter.
When the user wants to book a scooter, for instance, he gets out of the office and sees a scooter on the map nearby, he can use the booking functionality.

To increase revenue we developed functionality to rent several scooters from one account with one payment method. This functionality is useful when only one user in a group (of friends, colleagues, etc.) has an application installed.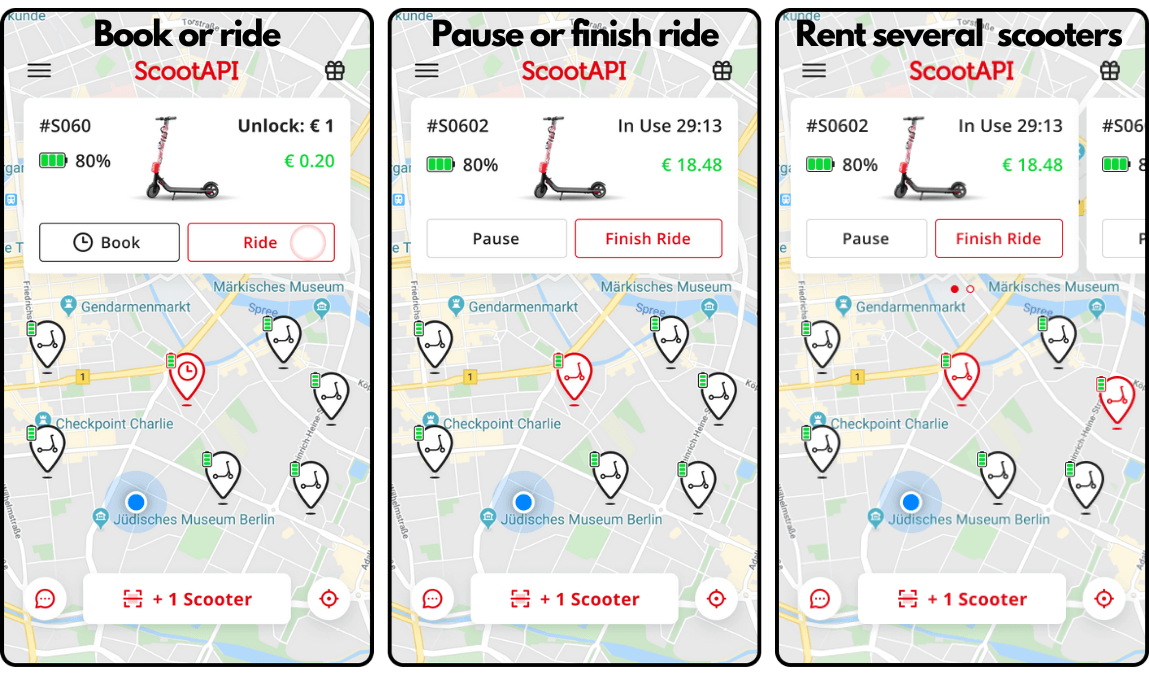 Payments
Paying for provided services is easy with Apple Pay and Google Pay already integrated into the application. Prepayment plans with bonuses increase the average number of user trips.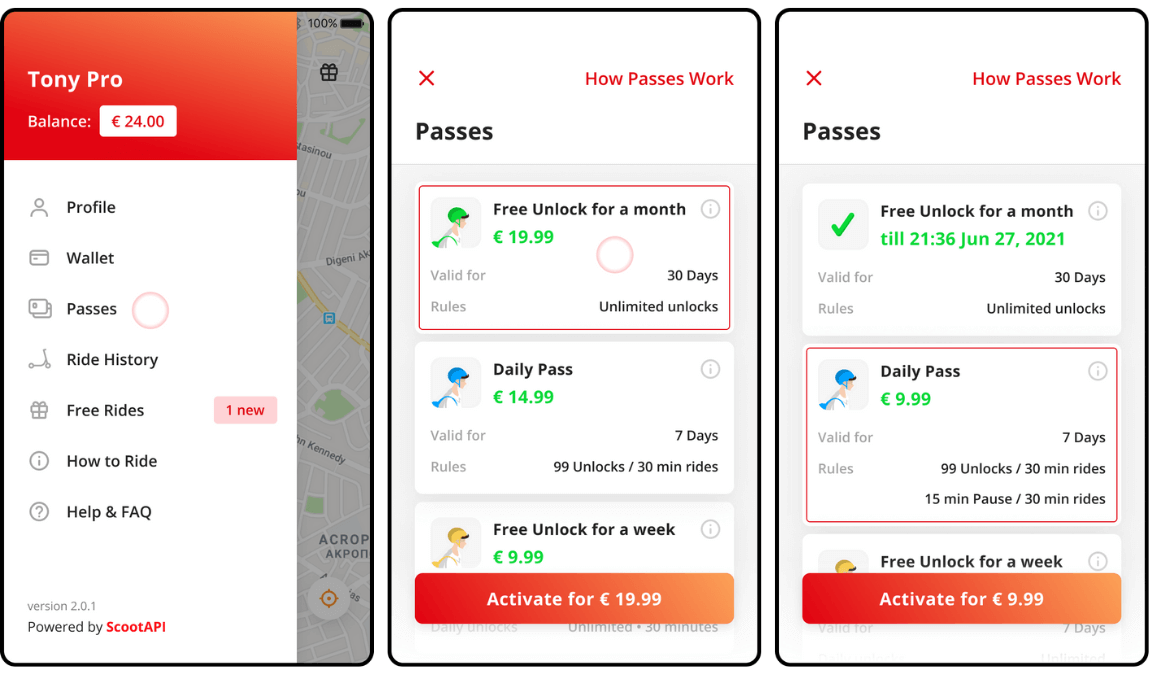 Passes
To operate in highly competitive markets we need to bring value to final users. When a company offers a low-price subscription for free unlock, the user who bought it, seeks scooters only of this particular company, because he knows that unlock is free.

If the user is a delivery employee, he most likely buys a daily pass as a way to do his job and save money on frequent usage, that way you may sell pre-paid plans to delivery companies and earn additional revenue.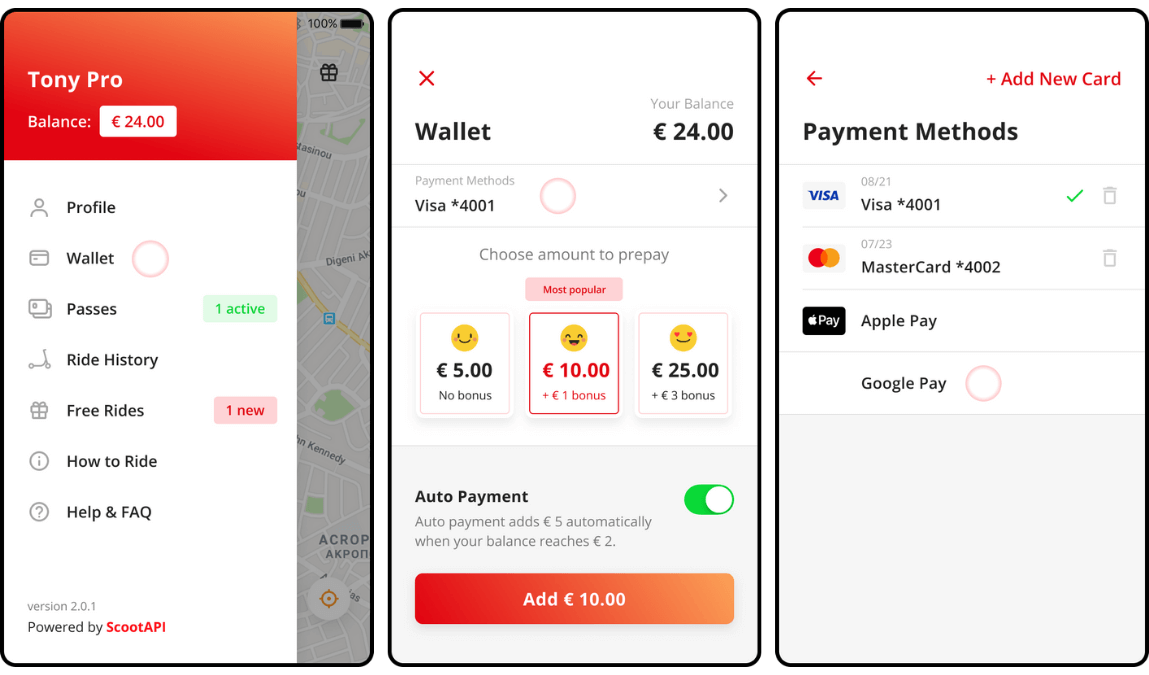 What it takes to start
The conceptual scheme of the process looks like this: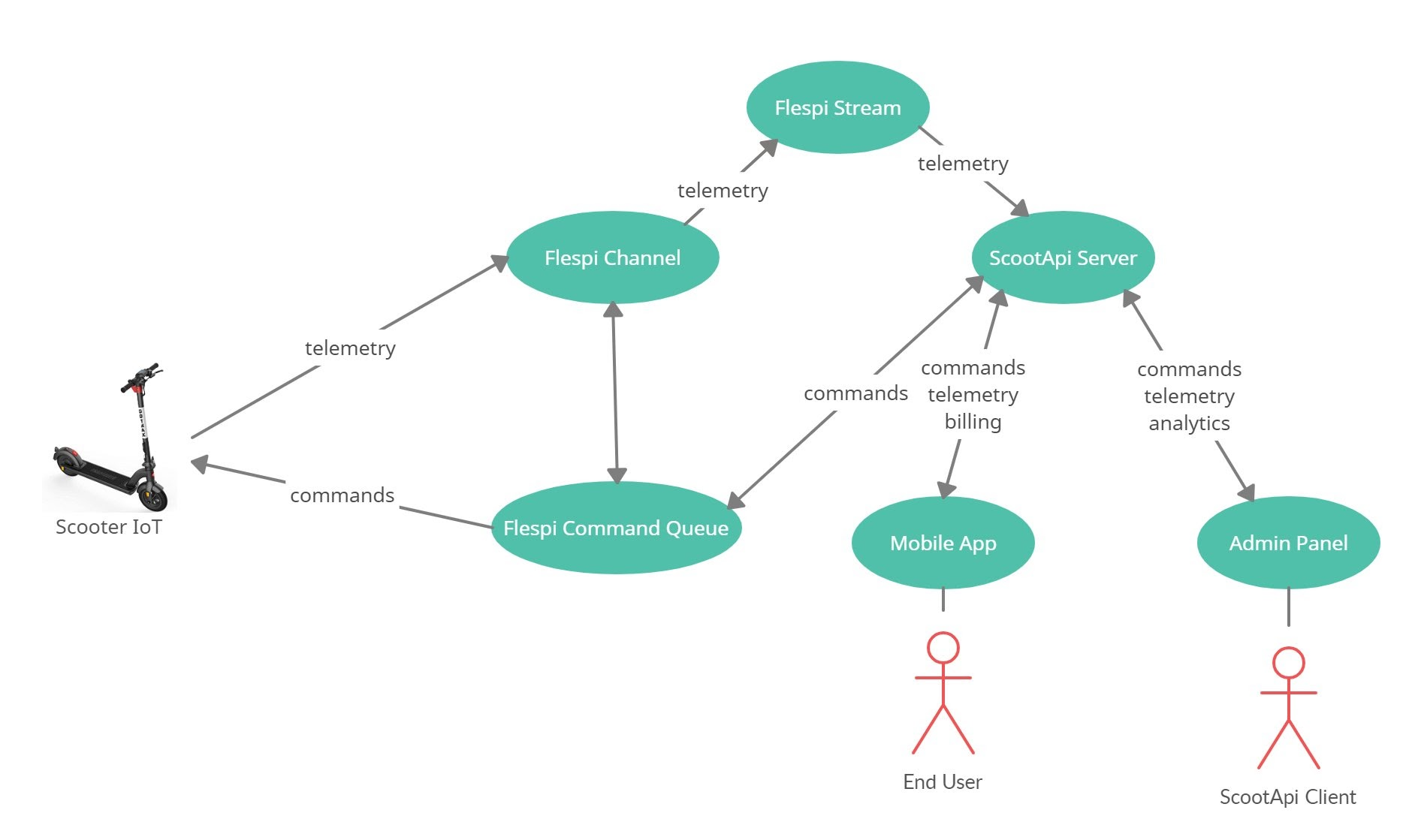 The client buys scooters and registers them on the ScootAPI platform. The scooters connect to ScootAPI via the flespi gateway. End users rent scooters via the mobile app connected to the ScootAPI server. The ScootAPI client (sharing business) manages, operates, and maintains its fleet of devices via the ScootAPI admin panel.
flespi role
"We were lucky to find flespi!"
ScootAPI was initially built based on flespi. The guys met the flespi team at the right moment — before having started to reinvent the wheel. Thanks to close integration with flespi, ScootAPI benefits from the following:
High-availability backend (uptime 99.98%) ensures reliable bidirectional communication and allows ScootAPI to provide high-quality services to its clients.

On-demand works — when the ScootAPI team needs some extra bit of functionality or new hardware to be integrated, the flespi team does their best to make it available in the shortest time.
As for the nuts and bolts of the ScootAPI platform, flespi takes care of all the device-to-platform communication.
Scooters can be equipped with different IoT modules by different manufacturers. Flespi is ready to work with versatile hardware (Omni, Teltonika, Okai, Navtelecom, Segway, MQTT, etc.). For ScootAPI supporting a new hardware manufacturer equals creating a new flespi channel. Flespi will accept all connections from compatible devices, collect messages, unify them, and send them to the ScootAPI server.
Besides, flespi serves as a communication hub for sending commands to IoT devices — the ScootAPI server sends the HTTP request, flespi sends the respective command to the device, delivers response with the delivery status, which ScootAPI relies on to ensure consistent device management.
As a result, we have a three-tier model: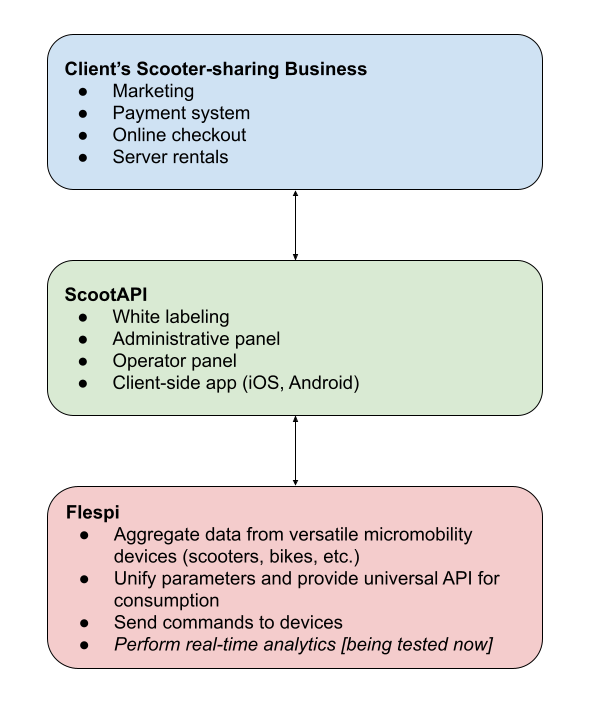 Future plans
ScootAPI team has ambitious plans for the future — they strive to become the best software platform for entrepreneurs who have the talent to create a powerful brand on the not-yet-saturated micromobility market and deliver its value to more people.
Management of ScootAPI constantly keeps searching for the best scooters on the market. They build relations with hardware providers to offer a wide selection of high-quality scooters, add more device-specific features, and ensure quick troubleshooting.
In 2022 ScootAPI intends to offer the best e-scooter sharing service on the market. They even want to send a test scooter connected to their demo app by post for any entrepreneur interested in launching a sharing business with the ScootAPI platform. Imagine how cool it is to get an e-scooter connected to the demo app to do the trials and completely understand how it works firsthand to be able to make a fully informed decision about going into this business or not.
Entrepreneurs who know how to do marketing will find resources to buy scooters and grow their business using "Franchise Lord" to become a stable source of passive income once it gains momentum.
***
As you see, the ScootAPI platform makes a great job of taking care of all the routine tasks a newcomer to the sharing business will face — administration, operations, while labeling, user apps, and more. Flespi, in turn, takes care of the technical tasks related to device-to-platform communication for ScootAPI. Everyone does what they are best at, and the customer gets a high-quality product developed by the domain professionals. It's a win-win-win, isn't it?
---
---