Registration
flespi is a Platform-as-a-Service (PaaS). You can create a free account by registering on https://flespi.io using one of the following options:
social account (Facebook, Github, Google, Microsoft, Bitbucket). Several social accounts can be tied to one flespi account. This way you can minimize the risk of losing access to your flespi account or share account access between several persons.

email/password
If you choose to register via email, you might need to wait a bit for the automatic login link.
Account settings
In the bottom left corner click on the Preferences item to open the settings tab. You can change the username seen in the support chat, set up the new email address and password for email authorization, subscribe for our monthly changelog, adjust the verbosity of the item lists to ensure comfortable webpage performance, and change the color scheme: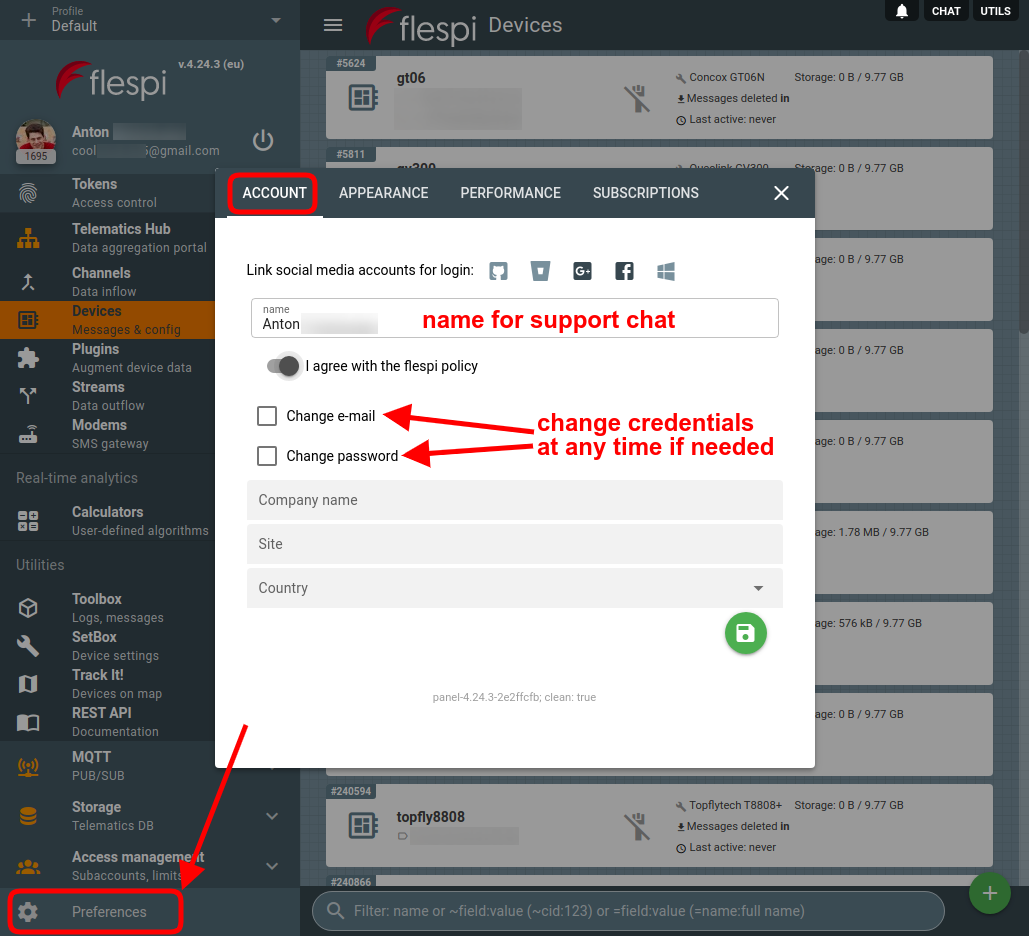 Important: if you change the email and password for your account, the existing tokens will remain valid.
Tokens
In addition to UI mode at https://flespi.io, you can manipulate your account via API using HTTP REST requests or MQTT sessions. Both must be authorized with tokens. The flespi panel can be operated under Master and Standard token. Tokens can be managed in the corresponding menu section.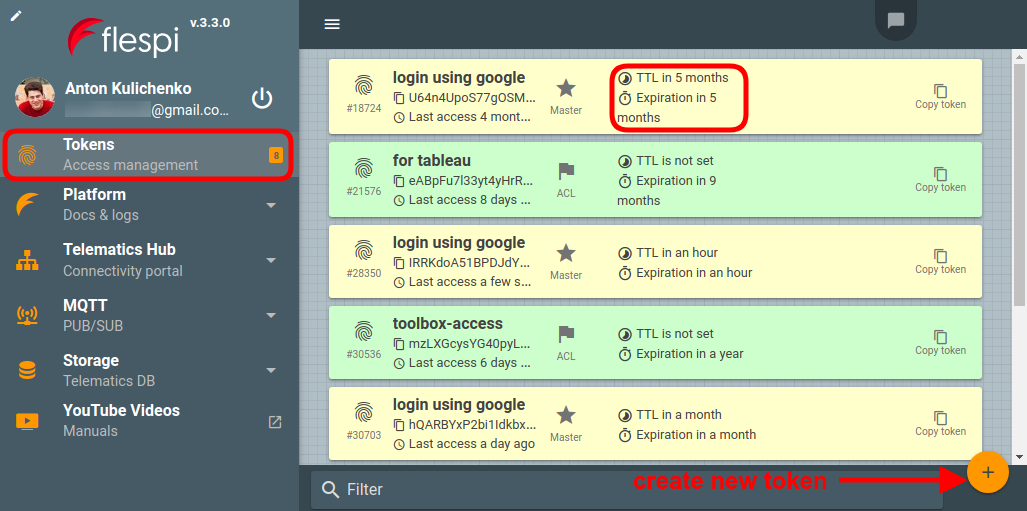 With the Master token you get admin access and full control over the flespi account.
With the Standard token, one can manage all the Telematics hub items, but will not see the items counters, won't be able to use the Helpbox chat, and won't be able to control tokens/subaccounts/limits. Standard token should be enough for most users — they will be able to manage the account's items but not have the admin privileges to change permissions and subaccounts structure.
Upgrade, blocking, and deletion
If you are about to exceed the restrictions of the Free account, you can upgrade to one of the Commercial plans at any time.
If you fail to pay for the Commercial account in time, it will be partially blocked.
Should you decide to downgrade back to the Free account, do it properly following the recommended procedure.
Free accounts are automatically removed after two months of inactivity. In this case, you can create a new account with the same email.
Account limits can be checked inside the flespi panel or via API.
---