Flespi platform is currently located in two independent data centers — in the Netherlands and in Russia.
Now new flespi customers are prompted to pick the region where they want all their flespi entities (channels, devices, subaccounts, etc.) and data (messages, intervals, logs) to reside. This is often critical for compliance with the national legislation (e.g. Russia requires all personal data to be stored on the territory of the Russian Federation).
Disclaimer: On March 9, 2022 we decided to cease our services in Russia and disabled all new registrations in the RU region. The datacenter and the RU region itself will be stopped this summer.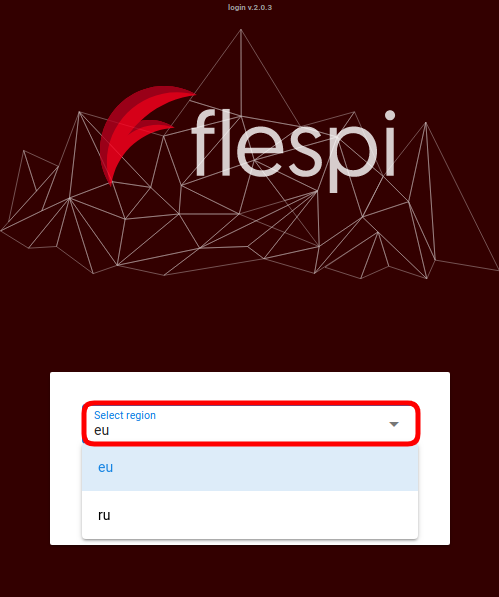 By default, https://flespi.io provides authorization and registration in the EU region, while https://ru.flespi.io provides authorization and registration in the RU region.
Be attentive when picking the region since this determines the location for all your personal data.
You can have accounts in both datacenters registered for the same social network accounts or email/password but these will be two separate entities with distinct tokens to access them.
The two datacenters are completely autonomous with only some common services shared between locations, i.e. billing system, customer support system, protocols and devices databases, and some internal platform checking tools.
The datacenters have separate NOC channels — flespi_noc for the EU region and flespi_noc_ru for the RU region.
The configuration of all flespi regions can be retrieved via the following REST API call: https://flespi.io/auth/regions. Connecting to the RU region MQTT Broker or REST API endpoint requires the use of different hostnames — with the "ru-" prefix, e.g.: ru-mqtt.flespi.io for MQTT and ru.flespi.io for REST.
If you are configuring the firewall to accept traffic from our platform (connections from streams, proxy and MQTT-based channels), please allow the following IP address ranges:
193.193.165.0/25 for the EU region
185.213.2.0/24 for the RU region
---