---
Essentials
How channels work
Channel handles connections from tracking devices, parses the incoming data, and stores parsed messages in the internal buffer (100 MB for the free account, 1 GB for the commercial account) for 30 days. It's important to promptly take parsed messages away from the channel buffer and clear it regularly to avoid channel blocking due to buffer overflow. This article explains how to get messages from flespi.
As the channel is responsible for connections to devices, you can manage them via API. You can see raw traffic split by identified devices and list or manually close each connection.
Note: you want to create flespi devices of a specific device type on top of channels to get additional functionality such as telemetry, remote configuration and remote control via API, dedicated long-term storage, plugins, and more.
IP whitelisting: If you filter the traffic on MNO towards flespi channel's IP, please be sure to whitelist 185.213.2.30 and 185.213.2.130 IP addresses (or the whole subnet 185.213.2.0/24 that is operated solely by flespi).
Types of channels
flespi supports 120+ channel protocols.
A channel can accept and parse the data from any device model of the manufacturer developing a given protocol.
Some channels can accept data from custom solutions. The following protocols can be set up to receive data from custom sources:
There are several types of devices that can work with one pre-configured platform and cannot be re-configured. flespi has API-based integrations with 10+ such platforms.
Wialon retranslator protocol is supported by many telematics platforms and can be used for cross-platform integrations too.
To analyze raw traffic in any channel, use the Traffic Viewer tool.
To forward the parsed data from your channels, explore our streaming options.
How to create a channel?
Important! We strongly recommend to point your trackers to the DNS of the channel's URI (in host:port format) and not to the IP address behind that DNS since we might change that DNS record without prior notice to point to different IP addresses to mitigate DDoS attacks.
How to point a tracker to the channel?
Open the device configuration tool provided by the manufacturer, find the Server settings setup and paste the host and port of the created channel there.
Alternatively, you can send a respective command to the device via SMS. The format is usually given in the protocol specification.
If everything is set up correctly, messages from your device should start coming to the channel. You can check this on the Logs & Messages tab for the channel.
Channels API
To perform any operations with the channels, use the channels API.
Troubleshooting
In case of any issues, check the Logs & Messages tab on the channel screen: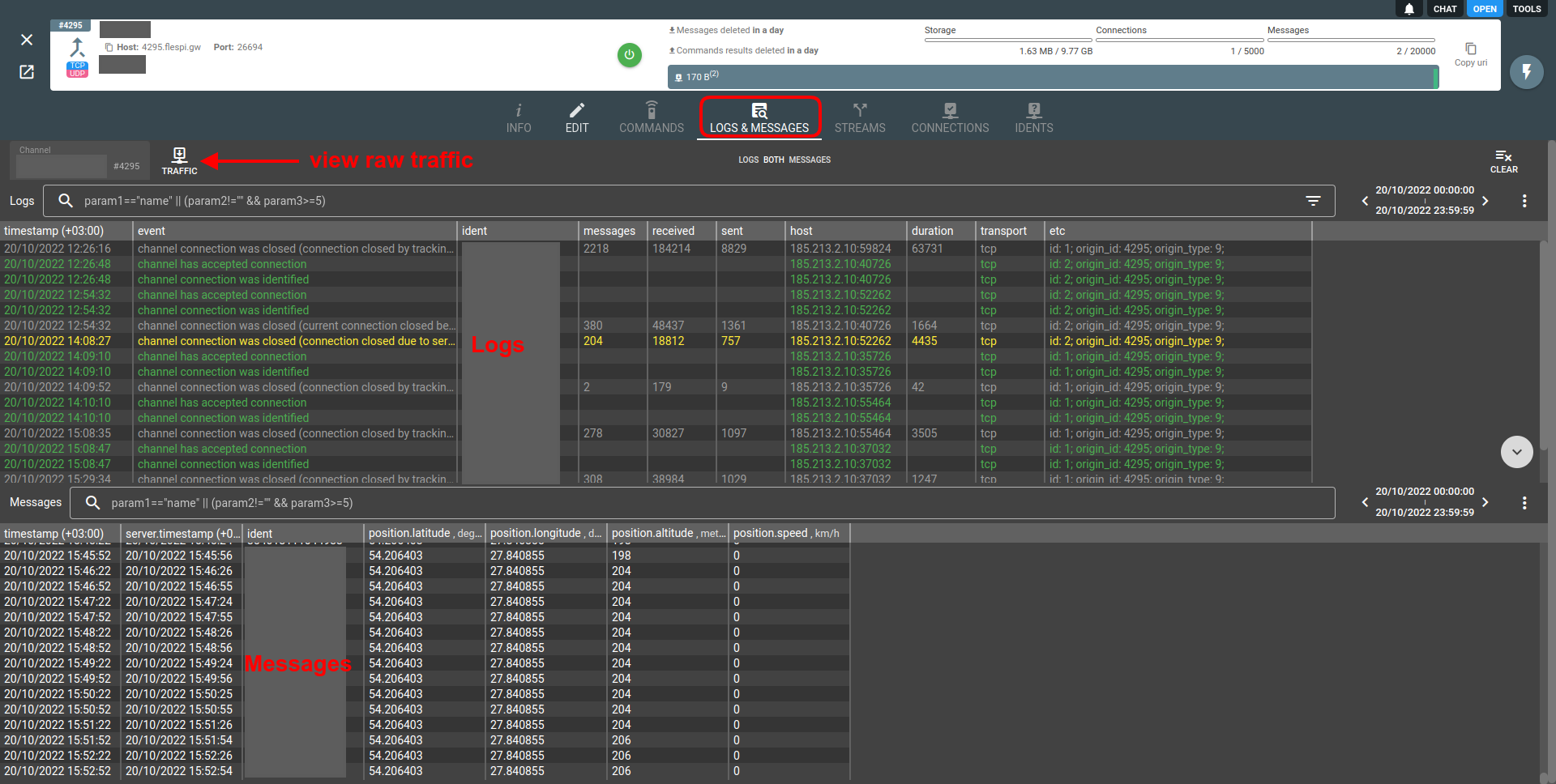 Use raw traffic viewer to investigate parsing issues.
What's next?
---