To connect your tracker using the Morey Slap-n-Track MQTT protocol, you need to have a morey-slap-n-track channel created first.
Point your tracker to the channel's domain name:port via SMS or configuration tool provided by the vendor.
Then create a device instance for your tracker and use a 15-character IMEI (usually specified on the tracker casing) in the ident field.
Use the Logs & Messages tab on the device screen to check if the messages are coming.
It is possible to configure Morey Slap-n-Track devices OTA using the flespi web-based configurator tool. To connect Morey Slap-n-Track to Wialon or another platform via flespi please read this article.
---
Once you create a Morey Slap-n-Track MQTT protocol, you can configure it as needed: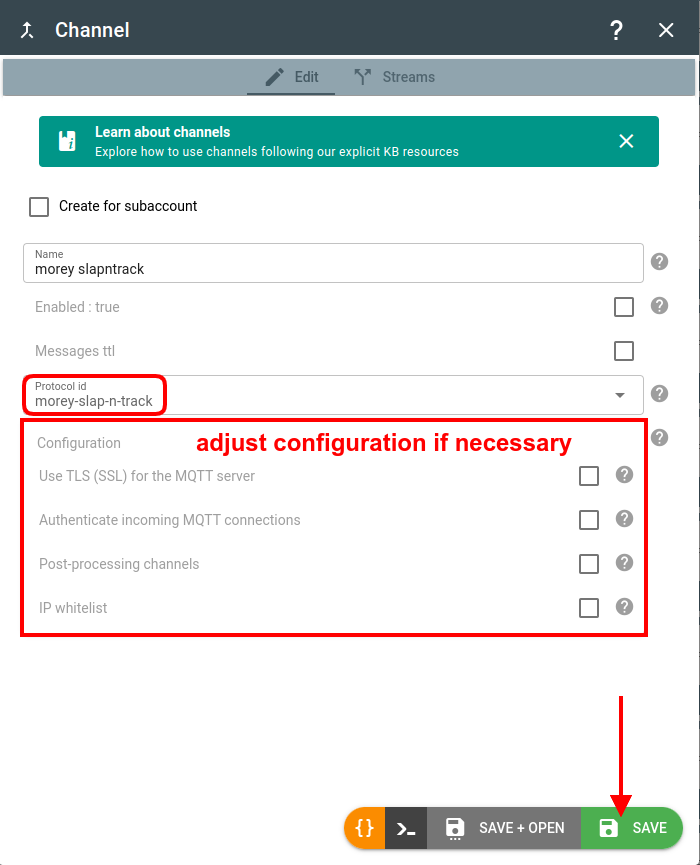 battery.voltage
number
volts
channel.id
number
ID of channel that received a message
device.id
number
ID of device that received a message
device.name
string
Name of device that received a message
device.type.id
number
ID of device type of device that received a message
gsm.cellid
number
Mobile network (GSM, 3G, 4G, LTE, 5G, ...) base station ID
gsm.lac
number
Mobile network (GSM, 3G, 4G, LTE, 5G, ...) location area code
gsm.mcc
number
Mobile network (GSM, 3G, 4G, LTE, 5G, ...) country code
gsm.mnc
number
Mobile network (GSM, 3G, 4G, LTE, 5G, ...) code
gsm.operator.code
string
Mobile network (GSM, 3G, 4G, LTE, 5G, ...) operator code, which is MCC joined with MNC
ident
string
Device unique identifier like serial number, IMEI, etc
message.type
string
movement.status
boolean
network.signal.rsrp
number
dbm
LTE reference signal received power (RSRP)
peer
string
IP:port from which device connecting to the channel
position.accuracy
number
meters
Position data accuracy in meters
position.altitude
number
meters
Altitude value for position
position.latitude
number
degrees
Latitude coordinate value
position.longitude
number
degrees
Longitude coordinate value
protocol.id
number
sensor.temperature
number
celsius
server.timestamp
number
seconds
Timestamp when server received a message
syslog.messages
array
timestamp
number
seconds