'Finally, it's over!', most of us exhale with relief. Indeed, hardly can we remember a year as hectic and unpredictable as 2020. It definitely disrupted all possible plans, amplified anxiety and stress worldwide, and corrected our lifestyles. However, everyone was doing their best at work, at home, and in their communities to make this year productive and fulfilling. The flespi team also put all their efforts into making our product better for you.
Here are the 10 major things that propelled us forward through the challenging 2020.
1. Plugins
The dataflow in flespi is well-established and well-known — the animated scheme on the main page explains all of its major components. However, as the "basic" needs are satisfied, the appetite for more advanced functionality grows — some of the existing and potential clients wanted more than just easy access to parsed messages. They wanted modified messages.
In response to this emerging demand, we introduced plugins. Plugins allow adding static or calculated parameters to the received message thus making it possible to customize message content to meet the needs of the receiving platform.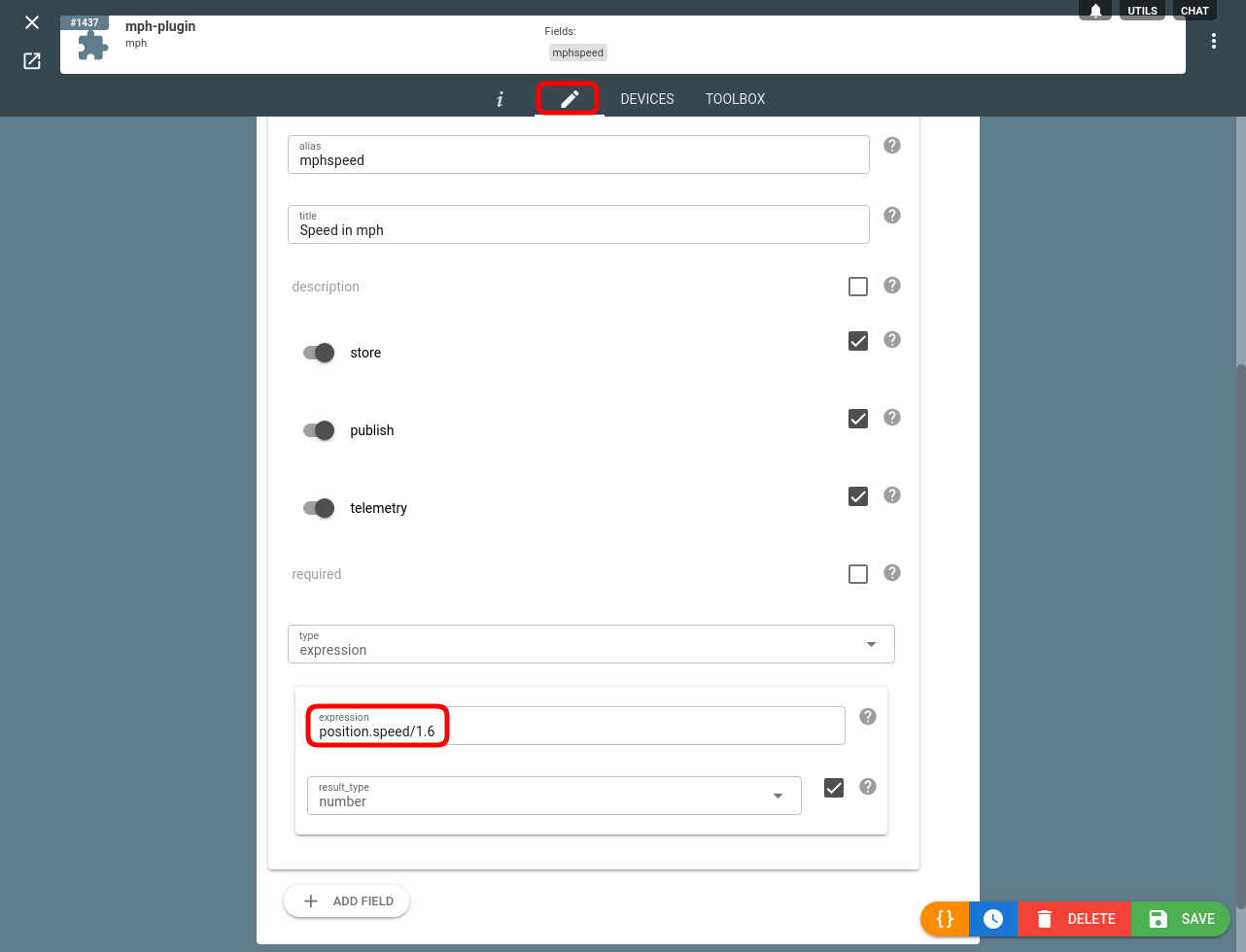 Learn the dedicated article on plugins for details and examples.
2. PVM2
This abbreviation is known to very few of our users even though the mechanism behind it lies in the heart of flespi. PVM engine does the parsing. The development of the new version of the flespi parsing engine took about a year and the transition of all existing protocols had been finished by the end of 2020. The new version is more closely tied to the flespi telematics hub, it allows integration of more complex protocols and device features, and carries the functionality to support a wider selection of versatile device types (e.g. LoRa, Sigfox, etc.).
We will definitely have a technical article about all the nitty-gritty when all the fine-tuning is over.
3. API Box
Docs are often considered boring and all the same. But it's not the case with our brand new REST API documentation or API Box. Since API is the core of flespi and its key advantage, we put every effort into making your experience with it smooth and productive. API Box allows navigating through the docs, interactively testing the REST API methods, generating curl requests, etc.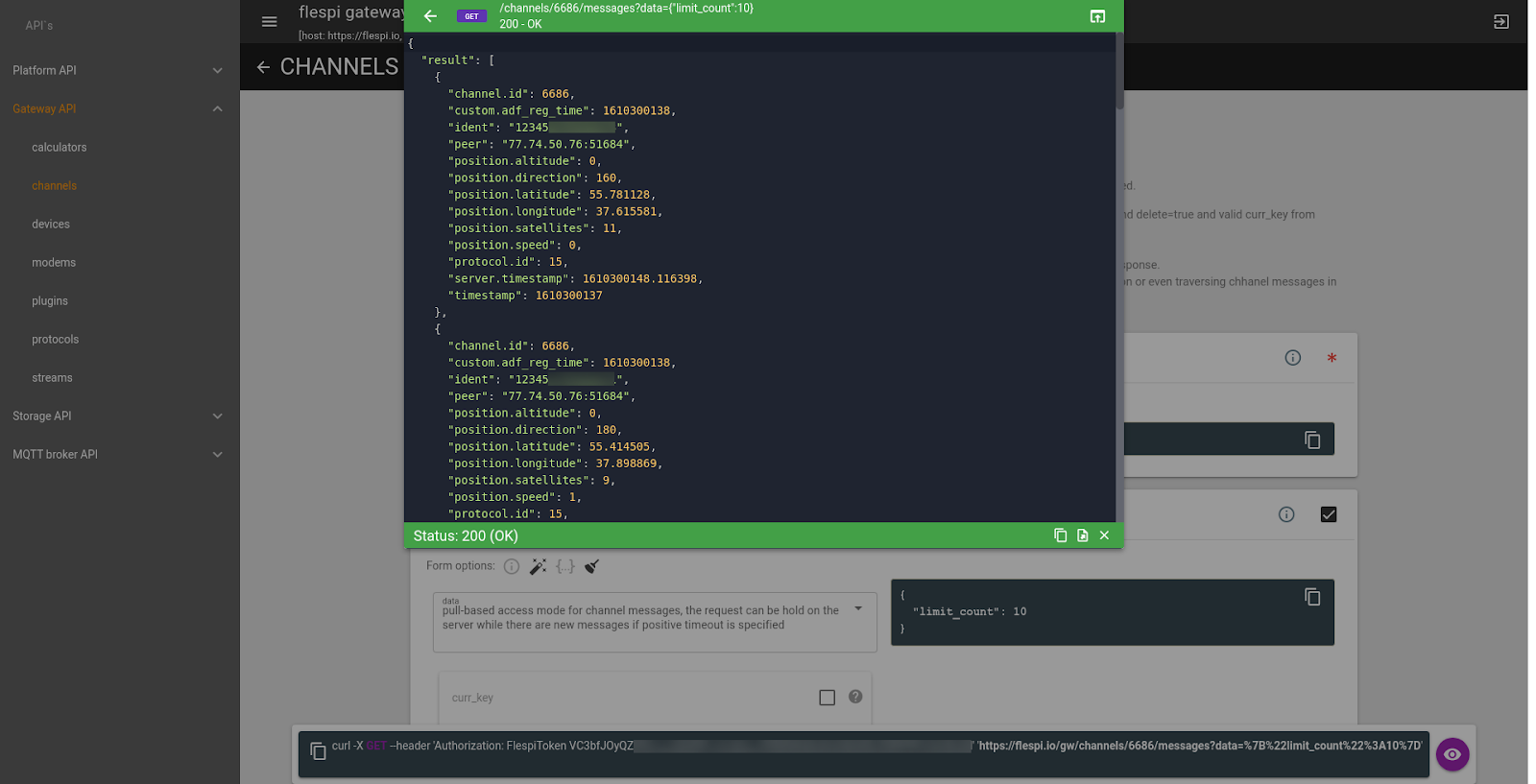 Read more about the functionality and features of API Box here.
4. Panel/Tiles integration
This point is not about a brand new feature or tool, but it's about a qualitatively new way of using our existing tools. You probably know that the data in flespi is available via MQTT (along with REST API). You might also be aware of our MQTT Tiles dashboarding tool. Now, creating live dashboards to visualize data from the flespi items is possible straight from the flespi panel: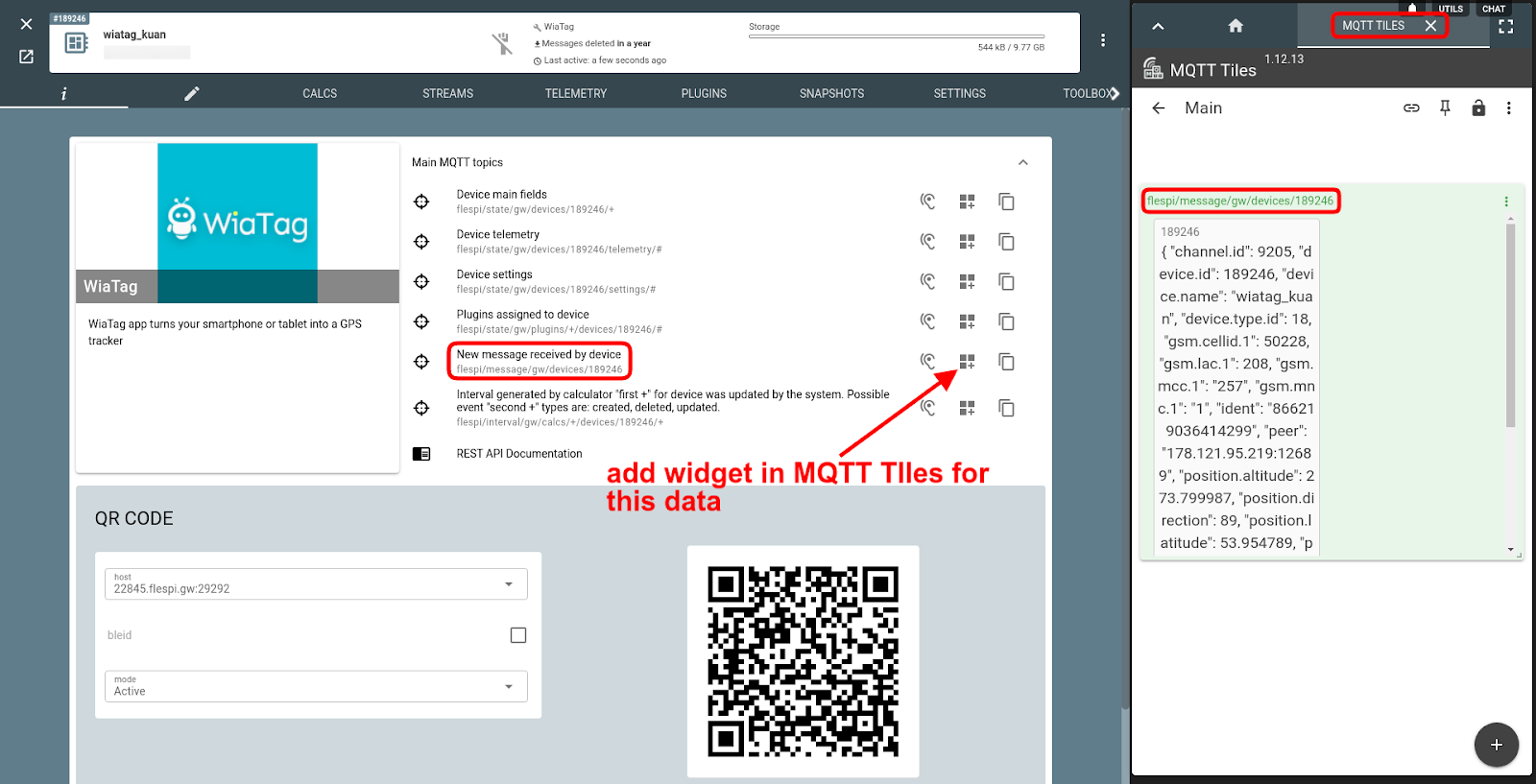 5. Major Toolbox overhaul
Toolbox is a No.1 tool for everyone using flespi intensively for more than an hour. You check if devices send messages, you monitor log records for errors and warnings, you analyze raw traffic, and more. In the course of the previous year, we collected substantial feedback from our users and colleagues and came up with a better and sleeker Toolbox. It has not only a more streamlined user experience but also extended functionality.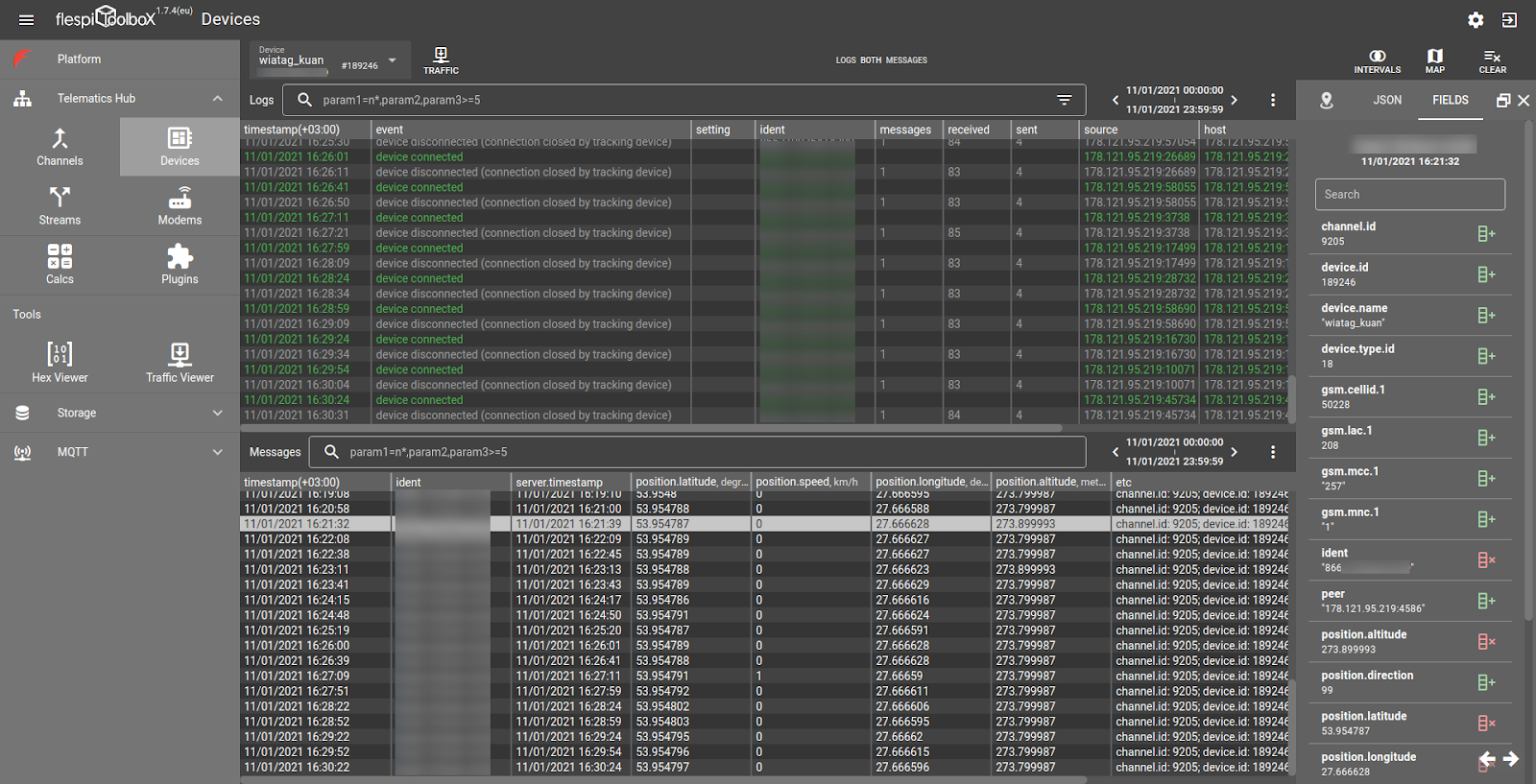 Here's a fresh guide covering all the capabilities of the updated Toolbox.
6. Traffic Viewer
When you notice an issue with parsed message parameters, sometimes it's not flespi that parsed them wrong, it's the device that sent something different from what flespi expected. In such cases knowing the original raw data sent by the device greatly facilitates troubleshooting.
With Traffic Viewer raw traffic data from all messages are available for all flespi channels.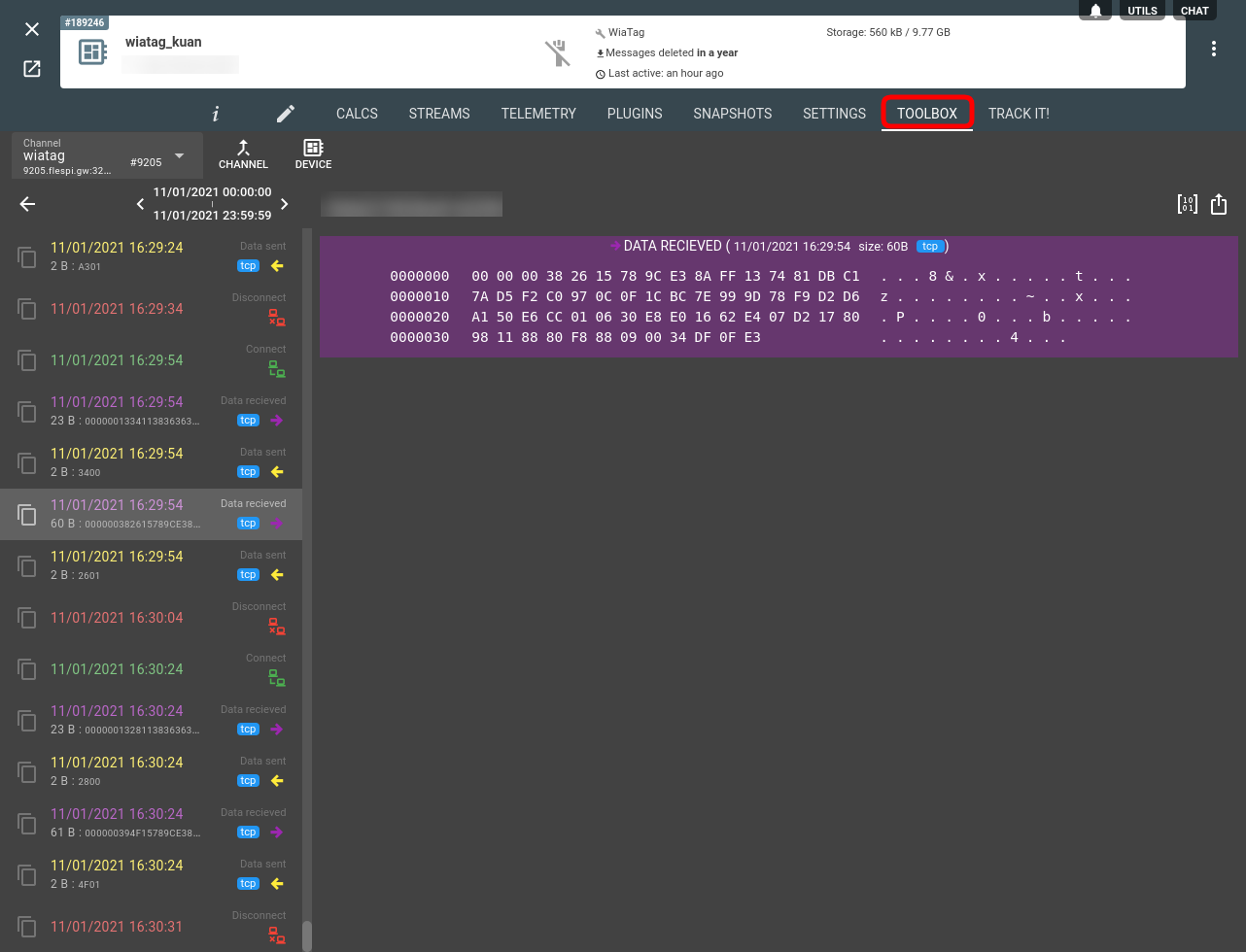 7. RU datacenter
Before 2020 flespi resided in one datacenter — in the Netherlands. Due to the growing community in Russia and its legislative requirements, we decided to deploy the second flespi entity in Moscow to cater to the needs of the local users. Now new users are prompted to pick the desired location (region) for their account upon registration.
This was also a great experience in launching an autonomous distributed location for our platform that we will definitely make use of in the future.
On our Status page, you can see the monthly uptime for each of our datacenters.
8. COVID-19 IoT Alliance
With "lockdown" and "pandemic" named the words of the year 2020, COVID-19 affected the lives of all people on the planet Earth to a greater or lesser extent. We, as a company couldn't stay indifferent and together with our like-minded partners founded the COVID-19 IoT Alliance.
The goal of the alliance is to help national governments, municipalities, NGOs, and other enthusiastic groups across the globe harness the spread of the coronavirus by developing effective complex (hardware + connectivity + software) technological solutions aimed at monitoring and regulating the movement or location of people, assets, and vehicles, controlling the state of protected areas and objects, ensuring public safety, and more.
We told about one of the projects implemented under the umbrella of the COVID-19 IoT Alliance on our blog.
9. Deepening customer relations
It's been almost four years after the flespi official release. It took some time for us to identify our core competencies, our target customers, our pricing model. At the end of 2019, we planned to dedicate 2020 to stabilization. While we were doing that, our communication with clients and prospects increased manifold giving us a lot of food for thought. We got to understand our audience a lot better, we did a lot of extensive consulting, project guidance, long personal chats, surveys, etc.
Some of our developments resulted from closely understanding the clients' needs (sometimes very specific), e.g. the use of BLE beacons, the customization of device messages to the requirements of the toll road operator, etc.
We are sincerely grateful to our clients for sharing their pains, relating to us, and trusting us.
10. Eating the big frogs
2020 changed the dynamic of the entire world — some businesses stopped, others halted, yet others reorganized, etc. We in flespi devoted a lot of time to do the big and significant, even though internal and invisible, tasks that we never had time to accomplish.
Most of the time, the benefits are intangible to the user, but we, as backend platform developers, feel satisfied with and confident about the level of service we provide.
Bonus: +1 team member
The flespi team is very conservative when it comes to hiring new members. We were a team of nine for quite a while. Sergei transitioned from the Wialon division of Gurtam where he had been in charge of the Americas office and business development for seven years.
Sergei significantly reinforces our squad from the business development side relentlessly working on nurturing customer relations, building partnerships, and finding new opportunities. We are now a team of ten and we like it!
***
The year 2020 taught us a lot: to be grateful for the simple things we often take for granted, to reformat our working process and leisure time, to squeeze hundreds of liters of lemonade from the tons of lemons we got throughout the year. We lost a lot, we learned a lot, we rethought a lot.
Thanks to everyone who stayed with flespi in this tough year. Let's move on stronger than ever in 2021!
---
---